There's been lots of controversy in the last couple years to whether Coconut Oil is Healthy or Unhealthy!
Coconut oil consists of 90% saturated fat and research has shown that the fatty acid chains of Coconut oil are shorter than the saturated fats from meats. The shorter chains in coconut oil have been shown to raise good cholesterol as opposed to the longer fatty chains in meats products have been linked to heart disease!
"Coconut oil is made up of about 90% saturated fat, but the scientific community has started to figure out that not all saturated fats are equal," Susan Mitmesser
There are two types of Coconut oil, virgin and refined. The virgin coconut oil comes straight from the pulp of the coconut and has more nutrients than the refined oil which is heated and has chemical added to it to keep the coconut taste!
In my opinion I think that virgin is the way to go if you chose to use coconut oil. Always go for the higher nutrient, natural food choices.
Also… substitute the coconut oil vs adding in to meals! Example use the coconut oil for the olive oil!
To Your Health,
Chris
---
A healthy breakfast is the best way to start your day and a great habit to get yourself into!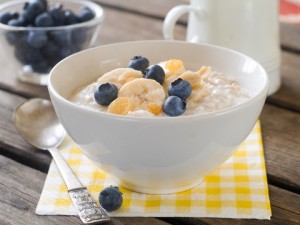 Here is a list of some of the benefits
Provides the body nourishment to start the day
· More energy to perform daily tasks
· Help control weight
· Kick starts the metabolism
· Improves bad cholesterol
· Great for the brain and short term memory
I have always encouraged my personal training clients in Santa Monica to eat breakfast every morning! This is an essential part to living a healthy lifestyle! Our bodies are not meant to starve or go for a long period of time without eating after waking up.  We need to take care of our body, you know that saying 'a happy wife is a happy life" well so is your body, "good nutritious food is a better life!
Continue reading Why You Should Eat Breakfast »
---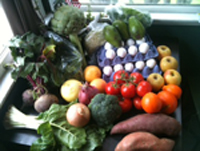 I started off this year at one of my heaviest weights I've ever been at 202 pounds. I had gotten married in September and found myself in celebration mode through the Holidays. As a consequence I gained 14 pounds.
I set my goal to get extremely healthy and  lose 20 to 30 pounds and get back in to bike racing! To do this, I made the choice to quit drinking (my last drink of alcohol was at midnight new years), cut out cheese and processed foods and only eat whole fresh foods. I also make sure to eat light at night.
Continue reading Clean Out Your Body »
---
I created a 32 day health challenge to help people lay the foundation to create a healthy lifestyle. It's run through Facebook so you must have an account.It's open to everyone!
Sign up here…https://www.facebook.com/groups/298544333528808/
Chris Chouteau
Personal Trainer in Santa Monica
www.custombodyfitness.com
---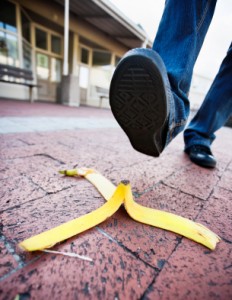 I just weighed myself and found I'm up 7 ½ pounds from the 4th of July week. The reason is because I made poor eating and drinking choices. I must now correct those choices; I will be eating extra healthy and cutting back on calories till I get back to where I like to be.
In my lifestyle I usually eat healthy and exercise so I feel good and my brain optimally functions. This past week I decided to make poor choices and today my energy is low, so I'm feeling tired and sluggish and struggling to write this blog entry.
For example: This weekend I ate chicken wings with beer and a late night pastrami sandwich. To undo these negative effects: Today I've had a few healthy meals and drank lots of water… I'm already starting to feel better!
Continue reading Dam Holiday Weekends »
---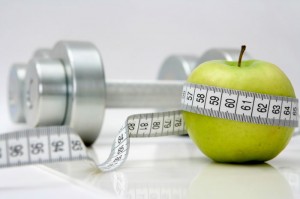 One of the things I've seen as a personal trainer is how exercise and eating healthy changes people. I've seen the change when people consistently start to exercise and eat healthy. It's a positive change and is the reason why I feel exercise is so important to incorporate into people's lives.
Continue reading I Found The Fountain of Youth »
---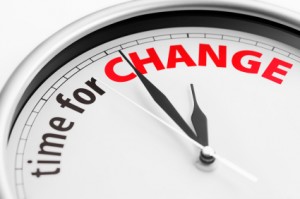 What if I told you that the reason you are not achieving the things you want in life is because you don't really want to achieve them? As a personal trainer my goal is to help my clients improve their lives by making choices to create a healthy lifestyle. I learned in my own life as well as training hundreds of clients that the only thing that prevents people from achieving results is our OWN SELF-LIMITING BELIEFS and LACK OF ACTION!
Continue reading You Have The Choice To Change Your Life »
---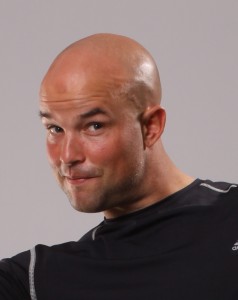 I want to help you create some awareness about human nature and yourself, so you have an understanding of what it takes to create change and be successful reaching your goals!
Whenever you decide you want to create a change in your life there will be challenges, because you're stepping out of your comfort zone. Let me give you an idea of what I mean:
Continue reading Do You Have The Courage To Step Outside Your Box? »
---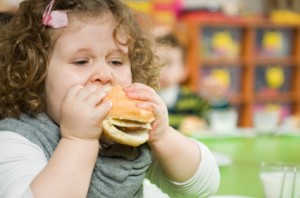 I know this is an extreme title, but what I'm going to talk about here is important. In the United States obesity has become an epidemic. Gallup-Healthways Well-Being Index study in 2009 found 63.1% of adults are obese or over weight. This means that at least 6 out of 10 adults are overweight! There are about 32% of children who are overweight in our country, that's 3 out of 10 kids! If things continue the way they are, this means that 3 more out of these 10 kids will become over weight or obese at some point in their life, and these numbers are on the rise. These numbers are scary and can be changed if we start to teach and educate our kids on eating healthy and being active at an early age.
Continue reading Do You Want Your Kids To Be Obese? »
---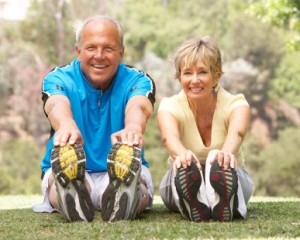 When you are working on creating a change in your life, you are working on changing old habits and creating new ones. It's very easy to sit and think about the changes you want in your life, but challenging to achieve and maintain them. This is because you have developed habits that need to be changed in order to be successful.
I have trained many clients in my life, and almost every client that I train knows what they have to do to reach their goal, but is unable to do so. Why is this?
Continue reading Understanding Habits »
---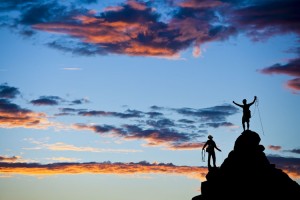 Setting goals is an important part to being successful with an exercise program. Your goals allows you to set a point of reference to where you want to be, and then to create a plan of action to get there. This point of reference also allows you to determine if your daily choices are positive or negative in reaching your goal.
The goal is very important because when you are working to create a healthy lifestyle there will not be a straight path from where you are now to where you want to be. Life is going to happen and there will be challenges that will slow and sometimes stop your progress. Knowing that these challenges are going to happen allows you to create the right mindset as you work toward your goal.
We have been programmed in our society to expect and see immediate results, and not work hard to achieve them. This is especially true in the health and fitness industry. We are constantly bombarded with advertisements that mislead us to believe that we can achieve results without working hard and putting in the effort… example: take this pill and you can lose weight and eat whatever you want, get a full body workout in 10 minutes, follow this start of the art diet… it's easy, no hard work required, it's simple. Blah Blah Blah!!! These advertisements drive me CRAZY. There are no quick fixes. You have to do the work and put in the effort.
Continue reading Understand the importance of Goals »
---