Gary's weight loss is truly inspiring! He is down 21 lbs and still going.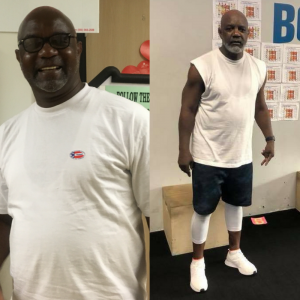 He started Custom Body Bootcamp in January of 2017. Before coming to Custom Body Bootcamp, he was weighing in at 242 Lbs. ; feeling depressed about his weight and knew he needed to make a change in His Life.
Gary went from struggling through a 30-minute session and attending 3 classes per week; to now doubling up on his classes and consistently attending 6 classes week.
Needless to say; Today's Gary is not yesterday's Gary. He's found a new lease on life and he did it all through health and fitness. He's down 21 lbs. so far and is feeling amazing.
He's built muscle (check out his arms), strength, and a whole lot of confidence.
The best part is his energy levels are high, and he sleeps better at night. Exercising has become a way of life for him.
He's extremely proud of his results and looks forward to his daily workouts. Gary continues to set goals for himself and is currently working on dropping another 20 lbs. of fat all while building muscles.