Meet Tavia- Theses Legs are used for Walking…Running and Jumping too! This is her weight loss success story.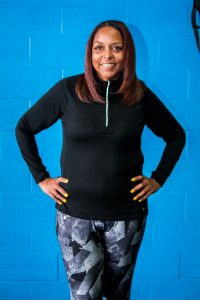 Tavia joined Custom body Bootcamp in April 2016. Prior to joining Tavia suffered a hurt hip and was unable to walk for two months. She knew she needed to be active so she picked up some weights and little by little she started walking again.
She had frequently passed by the studio and wondered if she could ever workout at Custom Body Bootcamp. One day she decided to approach a member that had just finished her workout. Tavia asked her how she liked Custom Body Bootcamp, and the member had only good things to say about her experience. So, Tavia decided to try us out.
7 Months later Tavia is down 50 lbs. She has come a long way from not being unable to walk. She not only enjoys her new-found self, but she is now able to work out the way she wants with no restrictions.
"I have finally found an environment where I feel people are concerned about working out and eating right just like me. More importantly no matter where you are at on your journey there is someone there to support you". That is what she loves the most about Custom Body Bootcamp say Tavia.
She continues to say that "Custom Body Bootcamp is an environment of encouragement".
She enjoys her fellow Bootcampers and looks forward to working out with them daily.
Before Custom Body Bootcamp Tavia had never committed to working out for more than 6 months, she's has been with us for 20 months and not bored of the program. Great Job Tavia! We are so PROUD of YOU!