Gorgeous and Active all the way to Retirement…Traci shares her weight loss success to inspire others.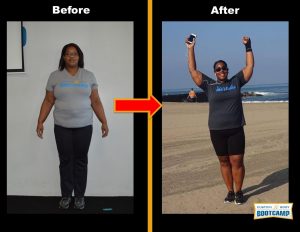 Traci was first introduced to Custom Body Bootcamp through a flyer from our Grand Opening back in September of 2015.
During the grand opening, she met a couple of our current members who she describes as "happy and welcoming people". She was pleased to meet such a diverse group of members who came in all shapes, sizes, and ages. They encouraged her to get active and shared their success stories with her.
She was inspired to create change in her own life and knew she could commit to a 30-minute workout, 2 years later she is still committed!
Traci reports she has more energy, her posture has improved significantly and is now fitting into smaller sizes which she enjoying because she loves shopping for her new body. Even more amazing is her blood pressure and cholesterol have gone down. This is Awesome!
She has increased her activity by 100% inside and outside of Custom Body Bootcamp. She went from hating to run to recently completing her first half marathon (13.1 Miles). She also enjoys other actives like swimming and biking.
Traci has also made amazing new friends within the Custom Body Bootcamp community who hold her accountable to workout, eating healthy and having fun!
Not only has Traci made these healthy changes for herself but her family has also made these changes as well.
Traci can do anything she set her mind too, she is open to trying new things and has a happier and sounder approach to life's challenges.
Although Traci still has weight loss goals she's working on reaching; she's not caught up in the stress of it all. Her new positive attitude on life allows her to look at the big picture of being healthy and active is most important. Traci is currently working on increasing her running pace and beating personal records on both her 10k & Half Marathon.
There is no stopping Traci, she vows to continue living her fit and healthy life and takes pride in wanting to be the fittest and gorgeous active 95-year-old in a retirement home when she gets older. "Because you're only as old as you feel at the end of the day".
New year, new you! Call us to sign up now for your custom body bootcamp 424-393-4055