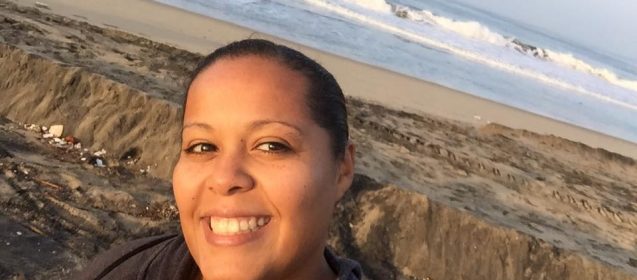 Ingrid not only made weight loss a priority in her life- she made it a whole new career!  Many of our members already know and love the style of our trainer, Ingrid. She challenges them in their workouts and helps them to overcome mental and physical obstacles. She knows all too well the weight loss struggle is REAL! Real personal.
Meet Ingrid Frias, 31
How did you discover Custom Body Bootcamp and then become a trainer?
I found out about Custom Body Bootcamp through a friend. She signed us both up for a free month of bootcamp at North Park; through our community Facebook page. I am happy to say I'm not only a trainer at Custom Body Bootcamp but I'm what they call an original – OG CBB member (1 of the very 1st). I had been looking for just a trainer before being introduced to Custom Body Bootcamp. But instead what I found is a community of people looking to get healthy and fit, just like me!  Turning trainer came about 6 months later. I became very passionate in the changes I was making and I began to share some of what worked for me with fellow members. Chris approached me about being a trainer and I was excited about taking my fitness to another level. I've always been a behind the scenes kinda girl, but call it divine intervention if you must :)…. I took the chance to finally come out of my shell and became a certified trainer. Fast forward I now train 18-22 classes a week with amazing members who equally inspire me and motivate me to be my very best!
Can you share some of your own weight loss journey with us?  Had you tried diets and other workouts before you came to Custom Body Bootcamp?
I've tried it all from, Zumba, kick boxing, pills etc. My weight yoyo'd for the better part of my 20's. It's not until Custom Body Bootcamp that I've learned to manage my weight without starving myself. Through clean eating, meal prep and exercising I can finally say I have control.
You lost 50lbs and have become an inspiration to our Members. How does that make you feel?
Grateful. Not only to have made a change for myself but to help motivate and inspire others through my own fitness journey. Making a change is never easy and you need all the help you can get. When I decided to become a trainer I told Chris I want to move people in the right direction. I hope that my struggles and triumphs are a testament to what you can achieve if you put in the hard work and consistency.
What have you learned about yourself in your own weight loss journey?
I've learned that my weight issues although physical were stemmed by emotional stress. Becoming fit and healthy has allowed me to face many of these untapped emotions and stress triggers head on. Working out and eating clean makes me feel good about myself and my choices. Every inch and pound lost, I wear it as a trophy. This journey has made me stronger both physically and emotionally. I'm proud, confident and excited for what the future has to hold. This is now and forever a way of living for me; there's no going back.
Why is fitness and health important to you?
Putting my health first was important because at the age of 10 I lost my mother to cancer and diabetes. When I found Custom Body Bootcamp I made a pact with myself not to be the passenger in my life anymore; but more like the "Driver". My mother was 32 when she past away leaving behind 4 children. Sadly I can't escape my family medical history which puts me at a higher risk for numerous diseases but I can make a personal changes in my own life to prevent the same outcome. Even more so now that my 32nd birthday approaches. Since my last doctor visit I'm proud to say I have a clean bill of health and I couldn't be prouder!  Custom Body Bootcamp has given me a new beginning. I love seeing who I am in the mirror! Because I see she is brave and beautiful for making a change and wanting more than just a mediocre life.
What in your experience makes this gym different from your typical gym?
The community. We all motivate, support and encourage each other.
What is the one word that describes your students at Custom Body Bootcamp?
Fierce!!!!… They are the driving force of my day to day… I'm as dedicated to them as they are to their change if not more so.
If you had one overall impression of the kind of members or people attracted to Custom Body Bootcamp to share, what would be that be?
Everyday people (your next door neighbor, your teacher, hairstyle, bus driver, bank teller etc.) Custom Body Bootcamp isn't a gym full of show offs or looky-loos. It's regular hard working people striving for results.
What is the one piece of advice you can share with our Members?
Rome wasn't built in a day… Stay consistent, anticipate your choices and always remember you are worthy and able to attain your goals. "Mind over Body"