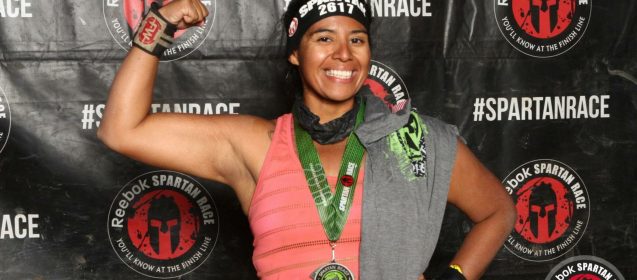 Meet Kim G.
Name: Kim
Age: 28 yrs
Races Run: 7 
Member of Custom Body Bootcamp:  3 months
Superpower: Mental Obstacle Obliterator
What was your personal turning point when you decided you wanted to make a healthy change in your life?
About 1 1/2 years ago, I was living in Spain and enjoyed a very active lifestyle. It's a completely different lifestyle than the States. So it was definitely the culture clash that really got me into wanting keep up the healthy lifestyle I had acquired.  My life was much more active while living in Spain. I had to walk everywhere; to my job, to go grocery shopping.I even I had to walk 30 minutes to and from the gym I had joined! The food is different too, with fast/junk food is so much more accessible here. So when I returned home, I had to really sit down and focus my energy in finding time to work out and learning how to eat better.  I decided to make my life change in July 2016 after my last vacation. I started with the Custom Body Bootcamp 28-day Challenge. I loved the workouts and the motivating environment, so I decided to stick with it!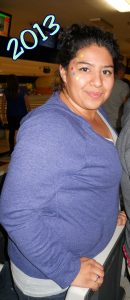 What has been your biggest challenge?
My biggest challenge has been, by far, the nutrition aspect. I love food (who doesn't?!) and it has been challenging trying to stay healthy. Coming back home, living with family, has been tough because it's hard to turn down grandma's cooking! But I think I've been pretty good about it, for the most part. I'm aware of the kinds of foods I am/should be eating plus now I have the portion control thing down, so you know, if and when I do indulge in grandma's cooking.  🙂
What was/is your goal for your health and life?
When I started working out, my goal was to do a Spartan Race. I remember having heard about them and always joked that I was going to do one. When I started working out more, in 2015, I said that I was gonna do my first Spartan that year. And I did- It was the greatest feeling ever! Then, at the beginning of this year, 2016, the goal I set for myself was to complete the Spartan Trifecta, which is doing all 3 races within one calendar year… and so far so good! I'll be running my last Race in December to complete the Trifecta!
I guess my overall goal really is to stay active and fit, and keeping up with healthy nutrition. I'd like to keep doing Spartan Races, compare my races, try to get faster and stronger. I would also like to get into Olympic Weightlifting, not necessarily to compete in the Olympics, but just to learn a new discipline, really get the technique down, and THEN possibly entering local Crossfit/Weightlifting competitions, you know, just for fun!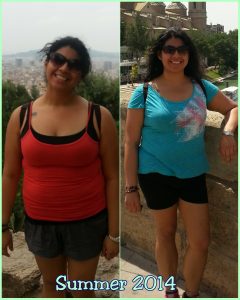 Tell us about your recent experience and struggle at the 12 mile Spartan Race.
So I recently did a 12-mile long, 30+ obstacle Spartan Race. When I signed up for it, I was totally psyched about it. I said I was going to train and eat better and do everything right. The training part went pretty well as I started running more and just kept up with my workouts. That part was fine. But in June, I attempted the 8-mile Spartan Race and had to opt out of it at about mile 5. I was completely exhausted and I felt that I couldn't, and really shouldn't go on. Having had to quit, really broke me down, mentally and spiritually. When the day came to do the 12-mile race, I didn't think I was ready for it, I wasn't even going to try it. But I changed my mental game and decided that I would give it a try and that if I didn't finish, at least I would know what I had gotten myself into and then train better for next year. The 12 mile race started out fine and I felt confident.. I had made it through about 4 miles when I came to a water station and  took a break. But then I began to feel SICK! I felt like throwing up (& almost did) and felt kinda dizzy. I didn't know what to do and that's when the doubt came in. I thought about quitting and just thinking about that broke my heart. So I sat down for about an hour, I think, I don't really know how long it was. Within that hour, I got up about 3 times and was still feeling sick… I felt like I was going to have to quit… AGAIN?! I just couldn't believe it.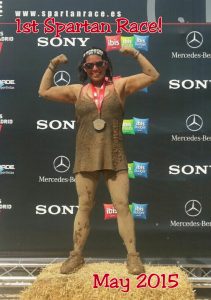 What was your mantra or motivation that helped you get through those moments of doubt in the race?
I was sitting there in the shade at this water station and fueling up with the snacks I had packed. I sat there thinking about what would happen if I didn't finish. Nothing would happen; except that I would feel completely disappointed in myself (we are our own harshest critic, right?) for a VERY longtime. I decided to get up one more time before coming to a permanent decision. I was feeling better, still a little shaken from almost throwing up and all the negative thoughts. I began thinking, "I could probably keep going. I'd have to take it slow, but I think I got this."
I took a deep breath and kept going. I did take slow when I felt like I needed it, and in my mind I really just kept thinking "One Step at a Time. You're doing this for you and nobody else. Run your own race."
It took me eight hours to finish the Race… but I'm really glad that I did.
The time didn't ever matter to me.I just wanted to finish it or at least give it my all trying. But after my little mishap at mile 5, I truly had my heart set on the prize.
What would you say to someone who is thinking of joining CBB?
I would INSIST that they join!! It is a great atmosphere, full of motivation and support. The trainers are all great, easy to talk to, very knowledgable on the topic of fitness and nutrition. They'll push you during the workouts but it's all in good fun and for your benefit! There is an amazing sense of community here, you will never feel left out. The bootcampers are very friendly, everyone (trainers included) greets you with a smile, before AND after the workouts. 😉 It's a great place to join if you want to workout with like-minded people, with people who will motivate you and encourage you. If you're looking for a supportive place to work out, have fun, meet great people, then CBB is definitely the place to be!!!
Member, do you have a story to tell? Email us to nominate yourself or another member to appear in our Blog series.