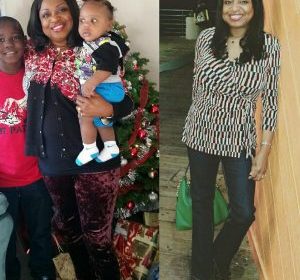 Meet Pamela D.
Age: 53 Years old
Member of Custom Body Bootcamp: 11 Months
Weight loss to date?  To date, I have lost 22lbs, I started at 168lbs now I'm at 144lbs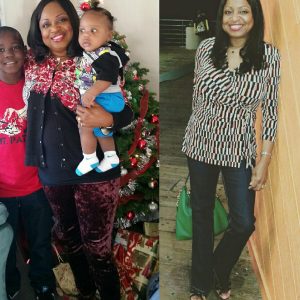 What was your life like before coming to Custom Body Bootcamp?
Before coming to Custom Body Bootcamp, my life consisted of no daily exercise regimen at all.  I was not energetic at all!   I would go for long walks for about an hour or so and that was about it!  I was a member of 24hr Fitness and eventually cancelled my membership because I wasn't using it.  Afterwards, I purchased a exercise bike, some weights, balls, ropes and exercise tapes to workout at home and never really used any of them.  I was overweight and ate whatever I wanted without taking into account any content of caloric, sodium, sugar, fat, or quantity of the food Items I was consuming!  Now, since I've been coming to Custom Body Bootcamp I read every food and drink label of anything me and my family consumes!
What was your trigger that made you decide to take action and make some healthy changes in your life?
A women of my age is at risk for stroke, heart attack and diabetes!  I wanted to take control and do something about how I was feeling!  I was tired of feeling sick all the time, feeling unhealthy and looking unhealthy as well!  I knew that what I was doing wasn't working, so I was open to try something different.  It was coming upon a new year 2016, and I knew it was time for me to do something good for my health, for my physical appearance or at least try and I did by signing up for Custom Body BootCamp which was the best decision I could have ever made!
What has been your biggest challenge?
My biggest challenge is changing my diet and sticking to a more healthy way of eating!  There are so many influences that comes my way starting at home and them with the things that I'm involved in!  There's always a party, luncheon, celebration for some reason and let's not forget all the holiday fun!  Those are the occasions that lure me into wanted to deviate from my diet and indulge in the foods that I know are wrong for my diet which are those "SUGARY Items" that have really been my biggest challenge!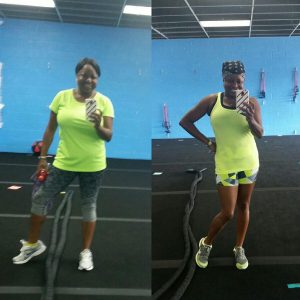 What goals have your reached?
I believe I have reached a few goals and then new goals come along as I keep learning!  Being consistent and dedicated to my workouts was my first goal!  Consistency is major because I needed to make a decision that I was going to focus on my goal, and to reach it I needed to schedule my workouts and show true by showing up!  The second goals was to stay teachable to instruction!  Why sign up for bootcamp and not apply the instruction given by the trainers. After all, you want the best result possible and the only way to get it is to listen to instruction and apply!   And the third goal was accountability!  I'm still working on being accountable to making healthy food choices, but overall I have become more disciplined and has come a long way from my lifestyle before to getting healthy and physically fit!  Once I became consistent, teachable, and accountable everything else is falling into place.  
How has your life changed after coming to Custom Body Bootcamp?
My life changed tremendously since coming to Custom Body Bootcamp!  I have more energy, I can run distances I never have before without gasping for breath just after a few yards, I can perform high intensity workouts without completely stopping or easily tiring out, I can climb several flights of stairs, my knees, back and hips don't hurt because of the extra weight I was carrying on my body!  My cholesterol level is down and I feel so much healthier.  The extra bonus is I have lost three dress sizes during this process, and it's so much fun shopping for my new wardrobe!  Not to mention all the positive remarks and complements from my husband, friends and family!
How do you visualize your future self that you are currently creating?
I envision my future self more fit and healthy!  I'm still learning tons about myself and my body!  I'm still a major work in progress!  Mind, body and spirit is what I'm still working on!  What works and what doesn't work for my fitness goals and Custom Body Bootcamp definitely works for me!  The best is yet to come for me as I tap into my fullest potential and take my health and fitness goals to the limit is my journey of self-discovery, which make me very excited for my future!  My physical fitness goals are for life and not just for a temporary time!   
What makes Custom Body Bootcamp different from other programs?
Custom Body Bootcamp offers a variety of programs different from the usual gym such as total body group and partnered circuit training, personal training, body positioning instruction, nutrition coaching, monthly fitness goal challenges, meal preparation training and demonstrations, special guest nutrition lectures, and community outreach programs and activities.  You cannot get this at your local gym.  Plus, I feel like I'm part of a family for the motivation and encouragement I receive on a daily bases in addition to the warm and friendly environment at Custom Body Bootcamp!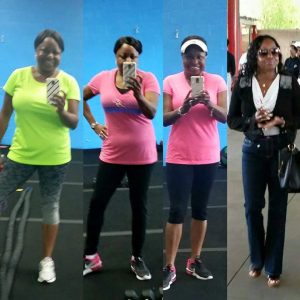 What would you tell someone if they are thinking about joining Custom Body Bootcamp?
I would say to them, What are you waiting for?!  You owe it to yourself to make the best decision for health and fitness in taking better care of your body!  For the new year 2017, do something different like never before and sign up for an affordable, fitness and life-transforming experience!