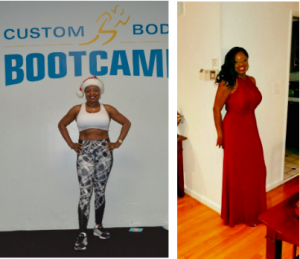 Meet Pamela, she's one of our amazing transformation stories come to life! Pam joined Custom Body Bootcamp back in Jan of 2016. She decided to join because she was struggling to reverse her high cholesterol, and needed to
increase her energy level. Moreover, she wanted to increase her serotonin levels and lose undesired weight, all while improving her overall physical health.
Since joining Custom Body Bootcamp her cholesterol levels are down 30 points, her energy is at an all-time high. Pam says she is also able to climb flights of stairs without tiring easily, she has picked up running which is
something she couldn't do before, and she is down 26lbs! There's no doubt that Pam has done the work and has maintained being consistent. Starting at 168lbs she's now at 143lbs, and kept it off for over a year now! She has gone from a size 12 to a 4-6, and has built lean muscle in every area of her body.
Over the course of her journey she has learned to control her portions, prep her meals. Cornerstone to her diet consist of organic fruits, vegetables and lean meats.
Pamela has changed her life all through health in fitness. Mentally she has the confidence and vigor to create physically changes to her body through healthy eating and exercise. She now takes on more physical challenges, and enjoys testing her endurance!
She aims to stay positive and continue to raise the bar with her running. She has since completed her first 10k (6mile Run)! And, plans to support, encourage, motivate and inspire others to reach their fitness goals as well!
Pamela Donaldson