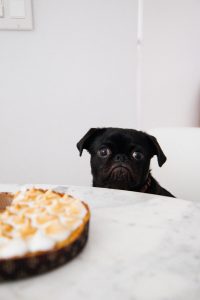 In Schertz/Cibolo, TX, we're so lucky to be able to find all types of fresh fruits and veggies available from local vendors. Of course, I'm a huge fan of locally grown fresh produce, especially when it's organic and right out of the garden. There's nothing worse than a cardboard tasting piece of fruit or vegetable that was picked early, before it became flavorful and shipped in a refrigerated car to ripen later. I guess what I'm saying is that when you focus on actual taste, it makes a huge difference. Truly tasting the food you eat is one way to get you on the road to eat healthy without depriving yourself.
You don't have to give up everything you love.
That's right. When you're eating healthy, it doesn't mean that you'll be struck dead by lightening if you have a small piece of cake or a cookie occasionally. Just don't eat the whole cake, sliver by sliver, of course. (We've all been there at one time or another.) If you do, don't throw up your hands and quit your healthy eating plan. It's not the end of the world. Just make sure the next meal is healthy. It's not the individual food that's going to pack on pounds or make you sick, it's the combination of your entire diet.
Find ways to make delicious foods and treats that are also healthy and have them available.
You can make some yummy treats that are still quite healthy. For instance, it just takes two, possibly three ingredients, to make a yummy fruit creamsicle. Grind up fresh berries or fruit like blueberries, sweet black cherries or peaches. Add an equal amount of Greek yogurt and if necessary, some honey or agave to sweeten to taste. Put in a popsicle mold and freeze. They're ready for you when you need a healthy sweet treat. There are so many other healthy foods that are absolutely delicious and won't leave you feeling deprived!
Find ways to substitute food or ingredients.
You don't have to eat everything raw that comes fresh from the garden, just start with a few changes to your diet to eat healthier. For instance, instead of sour cream on that baked potato, add a dollop of Greek yogurt. It looks and tastes the same, plus you can buy a smaller container of yogurt that costs far less than the sour cream, so you save money, too. For baking, applesauce can substitute or some of the oil or sugar in it. It lowers calories and boosts nutrition.
Eat slowly and savor every bite. You'll get the full flavor of each bite, plus it slows you down, so your brain has a chance to signal your body that you're full.
Double the salad and vegetables. Cut the dessert portion in half. You still get some, so you won't feel left out and with the double serving of salad and veggies, it may be all you can eat.
When eating out, eat slowly and eat only half the dish and dessert. Get a take home box and finish it tomorrow at lunch. It's a free lunch that also helps you lose weight!
Pay attention to whether you're hungry or eating for an emotional reason. If you're bored, lonely or sad, often you eat to console yourself. Instead, try doing jumping jacks, running in place, deep knee bends or other exercise before you walk to the fridge. The exercise can help lift your spirits and postpone that binging.