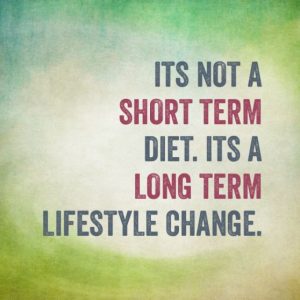 If you think that you'll get into shape by simply dieting, you may be surprised to find dieting doesn't work. What works is changing your lifestyle. Anyone that comes to our boot camp in Schertz/Cibolo, TX knows that we focus on making changes to your diet that last a lifetime, not just eating a special menu until you've lost the weight you want to lose. There are several reasons that making lifestyle changes is so much more important than dieting.
Diets may seem like they work, but they don't.
You may feel proud of yourself if you've shed those ten or twenty pounds by sticking with a strict diet, and you should. However, what happens once you've achieved your goals? Normally, you go back to your regular eating habits and it doesn't take long for all the pounds to return, sometimes bringing friends. The cycle starts over and you're back to counting calories. Diets work, but the success is temporary.
Healthy eating is different.
While it takes some time to learn how to make all the right choices, the basics are easy. Avoid highly processed foods and eat more whole foods. Whole foods, like fresh fruit and vegetables are more than just lower in calories, they're filled with nutrients that keep you running at peak performance. Learning to make substitutions, like eating brown rice instead of white rice for fewer calories and more nutrition or substituting Greek yogurt for sour cream on baked potatoes is the next step. Finally, learning to cook differently, steaming, broiling, grilling and baking rather than frying and making substitutions to recipes to reduce calories and boost nutrition, such as applesauce for oil or sugar in baked goods, is the last link on healthier eating.
Adding regular exercise to the mix is a must.
Sure, a healthy diet can help you shed those pounds and make you healthier, but when you add in regular exercise, it speeds the process and does even more. Exercise helps you stay healthier. It can burn off the hormones of stress, boost muscle development and improve circulation. As you build muscle tissue, it becomes easier to lose those unwanted pounds. It takes more calories to maintain muscle tissue than it does for fat tissue.
Drinking plenty of water not only keeps you hydrated, it keeps you healthy. Part of a healthy lifestyle includes drinking approximately 8 glasses a day.
A healthy lifestyle also means getting adequate sleep. Sleep is necessary for good health. It's heart healthy and can also help curb urges for sugary treats for energy.
The healthier your lifestyle, the more energy you'll have. That can lead to a richer, fuller life and an even healthier way of life.
Socialization and smiling are also important for health. Smile more and enjoy the company of others to be your fittest and happiest. A good belly laugh burns calories.