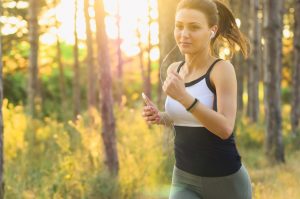 I tell clients in Schertz/Cibolo, Texas, that they can be anyone they choose to be. That doesn't mean that if they're five foot two inches tall, they'll suddenly sprout up to six feet four. It does mean that they can boost their energy and overall fitness to become more active. You can lose fat and build muscle tissue. You can have the body you always want and be the best you. It's time to discover who you are by taking the steps you need to take to make that dream come true.
Getting fit won't solve all your problems, but it will give you the determination and energy to face them.
There are so many inspirational stories on how working out has helped people who have faced serious health conditions, many caused by obesity, and helped control them. There are also stories of people who faced other types of loss, loss of a loved one, depression and loss of self-esteem and even loss from drug or alcohol abuse. These people found that the exercise helped boost not only their physical strength, but also helped with their mental strength, overcoming depression, anger and building self-esteem.
You have a lot more to offer than you'd ever imagine.
If you don't know where to start to change your life, getting fit can help. Focusing on one goal and accomplishing it can help you achieve another goal. Getting fit, losing weight and boosting your energy, plus that confidence you get from accomplishing a goal can help you achieve anything you choose. Eat healthier and exercise regularly can change your life and help you become a new you.
Get the look you want.
Feeling good and looking good should be part of everyone's life. It doesn't matter how far you have to go, there's victory every step of the way. Setting a goal that's achievable and a time frame to achieve it is important. If your goal is big, break it down to smaller ones that you can do in a few weeks or a month. That helps keep your motivation going. I'll work to help you set up a program based on your fitness level and as your fitness improves, adjust your workout to match that improvement.
Learning to eat healthier is also part of the program. You'll be amazed at how healthy eating actually makes you feel good, besides helping you lose weight. You'll never feel hungry or deprived.
It's not always easy to change your life, nothing worthwhile is easy, but it can be fun and extremely rewarding. There's a lot of comradery with our groups.
Make small changes and keep doing them until they become habits. If you're not ready for a full time fitness program or a full program of healthy eating, start by walking more or eating fruit instead of candy. All small changes can add up to a new you.
When you're ready to discover exactly how great you can be, I'll be ready to help at Custom Body Boot Camp and prepare a personalized program to help reveal the new you.
Want to Learn More About Discovering Who You Are?
If you're ready to take your fitness to the next level, contact me today
here
or call me at (210) 853-8333.