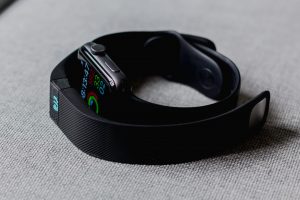 FitBit is popular in Schertz/Cibolo, TX, just like it is everywhere else. I often get questions from people about how important it is to add this tracker to their weapons for good health. The answer is, it depends. That's right, some people find it extremely helpful, while others like more traditional techniques or different technology. It's simple, small and records a number of different types of data throughout the day. It may record the amount of calories you burned, the number of steps you take and even spot how hard you're working… are those steps a slow stroll or a hard hitting run? It's a good tool to keep you accountable.
Get other health information with FitBit.
Wear it at night to see the quality of sleep you have, too. It also records your heart rate, the number of steps and stairs climbed and the distance you traveled. Newer models identify they type of exercise, interval mode and when to stop or start. If you're doing weight lifting, it records that too. It can give you a cardio fitness score based on all the data it collected, your profile and your resting heart rate. You also get virtual badges for achieving goals to add to your motivation.
There are other tech products to also help you get fitter.
Wearing fitness gadgets is now fashionable and there are a host of competitors on the market. Jawbone's Up, another fitness wristband, lets you know if you're sitting too long and need some activity. BodyMediaFit has a host of features to tell you how fit you are from your heart rate to the heat that comes off your body. Not getting the right type of sleep? Try Zeo to monitor it.
Go old fashioned.
Maybe you're not a techy kind of person. That's okay, you can use simple device to help you get fit faster. If you set at a desk all day long, bring a timer or use one on your phone to remind you to get up and walk every 50 to 55 minutes. Track your workout with a simple chart created on a small pocket pad. Sometimes, the act of logging the information yourself is just as motivating.
Working out with a friend can be just as motivating, but products like FitBit are helpful when you're on your own.
Counting out a thousand steps a day is too cumbersome to do without some type of technology. That's one reason these types of fitness aids are so popular.
While a formal program for working out is important, you also need to stay active when you're not at the gym. These apps and tools can help you stay more active and if you're a mom, a great way to prove to a spouse just how much you do!
FitBit isn't for all types of exercise. For instance, if you're a swimmer, it won't help you there.