​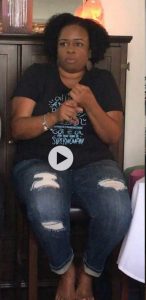 When Lynn saw this picture of herself she knew it was time to do something about her health and her life.
She started to do research and found Custom Body Bootcamp and now is down 37 pounds. She is feeling great about herself and excited about her future… check out her story below…
1.    When did you start Custom Body Bootcamp, i.e. months, years?
I started June 4th 2018. I did the 13 week summer challenge,
2.    What was your life like before joining Custom Body Bootcamp?
I was at my heaviest weight. I was tired all the time, depressed, aches and pains here and there. I mostly felt angry. Angry with myself because I knew I wasn't living authentically. My true self wanted to be healthy, fit and strong. My true self wanted to eat well and be consistent with fitness. I wasn't doing any of that so I was angry. Essentially living a lie.
3.    What types of changes have you made since joining Custom Body Bootcamp?
I've made some serious changes to my diet. My mindset about food and fitness have changed. I'm no longer using diet and exercise as way to just lose weight, its now part of a lifestyle journey. ​
4.    What is your weight loss to date and how do you feel? 
To date I've lost about 37lbs. I feel amazing. For the first time I have clothes in my closet that are too big. My work scrubs that were too tight are now way too big. I even went down half a shoe size. 
5.    What goals have your reached?
My biggest goal when I started was to just be consistent. Everything else was secondary. Yes I wanted to lose weight but more than anything I wanted to prove to myself that I could stick with this journey and not give up. When it came to eating healthy and exercise I would do it for a couple weeks then quit. I'm finally in a place where eating right and exercising is my new normal. That's huge for me.
6.    How has your life changed after joining Custom Body Bootcamp?
I knew my life had changed about a week after starting the challenge and changing my diet. Someone brought a fresh, still warm box of donuts to work one day. I stood next to the donuts and had absolutely no desire to have one. I was in shock so I stood there a little longer waiting to see if I would respond like I normally would… and nothing. I didn't want the donut. I have dozens of examples like that. I feel good physically, I have mental clarity, my moods are not all over the place, and most importantly I feel like I'm finally becoming the person I always wanted to be. Someone healthy that feels good on the inside and reflects that on the outside.
7.    How do you visualize your future self with respects to exercise and eating healthy?
This is just the beginning of my journey. I still have more weight to lose and I'm still learning what foods and methods work best for my body. I see myself progressing with fitness. Now that the weight is falling off my new goal is to be toned and to be able get through those CBB workouts lifting heavier weights, doing more sit ups etc. The workouts are a challenge, but I don't regret a single one. I feel awesome and so accomplished after each workout.
8.    What would you tell someone who is interested in checking out?
I would say go for it. What do have to lose? It was hard at first. I really didn't like it the first two weeks. I was like what did I get myself into. But I made a decision to just keep coming back. And it got easier and I got stonger from week to week. And to my suprise I actually started enjoying it and looked forward to coming. The instructors are motivating and warm. Its an encouraging environment and other people there have the same struggles and victories as you do and you compare stories. I would tell someone you deserve to feel good about yourself inside and out. I'm a registered nurse and everyday I work with patients who have diseases that could have  been prevented with diet and exercise. Once I made the decision to change everything else was so easy. I still enjoy "bad" food here and there. But now when I eat like that its the exception not the rule. Those moments are more enjoyable now because it's an experience, not just some random grossness I picked up in a drive thru. I feel amazing and you deserve to feel amazing too.
​