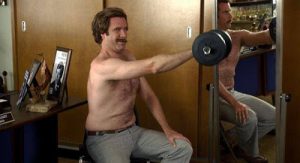 Don't get me wrong, when I say that not all workouts are created equal, that doesn't mean you should stop the exercises you're doing in search of the best ones. Quite the contrary. ANY EXERCISE is preferable to no exercise at all. However, some will get you in shape faster or help you lose weight quicker. In fact, it's one reason people use personal trainers. Getting the best results for your time in the gym is always a goal. You need to identify what you're hoping to achieve to find the best exercise for your needs. Each type is necessary, but focusing on a specific type can give you the best results.
Strength training is at the top.
If your goal is weight loss or building muscles, strength training should be at the top. While cardio workouts burn calories, so does strength training. Strength training also helps prevent muscle loss that can lead to bone loss. Aerobic training, cardio, doesn't discriminate where those calories come from. They may come from burning body fat or burning lean muscle tissue. When you're burning calories for strength training, you're also building muscle tissue and muscle tissue burns more calories 24/7 than fat tissue does.
You need cardio, flexibility and balance training.
Don't let the promotion of strength training mean you have to give up other types of exercise and head for the weights. You need all types of workouts to be fit. That's why your goal is important. If burning calories is tops, go for it, add strength training to your workout schedule, but don't do it more than twice a week if you're going hard. Your muscles need time to recuperate and heal. Balance and flexibility training can help prevent injury from falls or sprains and strains. Cardio is necessary for heart health and endurance.
HIIT—high intensity interval training—is a way to get all the benefits.
HIIT is a method of doing different types of exercise, not an exercise itself. It's a type of interval training. When you workout with a HIIT format, you give it all you have for a short time, followed by a moderate pace to recover. Then you repeat this process until your workout is over, between 10 and 30 minutes. You notice I didn't mention a specific type of workout. That's because you can use HIIT with any type of exercise. You can run hard and then jog, then back to running hard. Pushing hard in interval training gets many of the same results, but you're working a lot of body areas.
HIIT workouts provide cardio and strength training. They can also include balance and flexibility, so you get a full workout.
HIIT workouts keep burning fat after you've finished. It uses fat to get your body back to normalcy after the workout.
There are various ideas of the ratio of HIIT between the all out and the resting time. The best ratio should be one that's tough for you, but not so tough you have to quit. A heartrate monitor helps.
Any interval training can be turned into a HIIT interval training. Just adjust the amount of energy you put into the exercise. Go at maximum heart rate for a while and then do exercises at moderate rates.