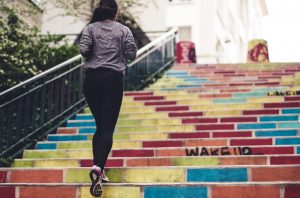 If you've read the news that some studies show that running too much actually takes toll on your heart, take note. Actually, running is good for your heart, just like any type of endurance exercise. However, just like any type of exercise, going from couch potato to marathon runner in one day is not heart healthy. People who have lived a sedentary life aren't prepared for a tough workout that would even make a veteran runner exhausted. Doing too much, too soon without working up gradually to a high level of exercise is bad for all muscles.
Running helps you lower your blood pressure and even cholesterol levels.
It doesn't take much to help get those numbers better, just 30 minutes four to five times a week provides enough exercise to help normalize high blood pressure and lower the bad cholesterol, the LDL, while improving the good cholesterol, the HDL. High blood pressure and high LDL cholesterol are both precursors for heart disease. Getting the numbers back to normal will make your heart thank you by beating longer.
You'll boost the strength of your heart muscle when you run.
Your heart is like any muscle. It needs exercise to work its best. When you run, you make your heart pump harder. Just like any muscle that has to work harder, it builds strength. Getting your heart muscle into shape means you strengthen the heart walls and improve its efficiency. You'll be able to endure longer without overtaxing your heart as it builds strength.
Running will help you lose those extra pounds.
Obesity is now the leading cause of preventable deaths. It also sets you up for heart disease. When you run, you work many different muscles besides your heart. You start burning extra calories and building muscle tissue that replaces the fat tissue you lost. The more muscle tissue you build, the more calories you burn, since muscle tissue requires more calories to maintain than fat tissue does. Before you know it, you'll be far trimmer and heart healthy.
Running not only makes the heart stronger, it improves the intake of oxygen and lowers the resting pulse rate. That allows the heart to pump more blood each beat and makes its job easier, making it work less.
Running helps burn off the hormones of stress that can affect not only your heart, but your whole body. It replaces those hormones with ones that make you feel good.
Running improves circulation, while helping to prevent clots that can interrupt blood flow. Improved circulation also sends important nutrients and oxygen to all parts of the body, including the heart.
If you're starting a new workout program, always check with your health care provider to ensure it's safe for you before you start.