There's been lots of controversy in the last couple years to whether Coconut Oil is Healthy or Unhealthy!
Coconut oil consists of 90% saturated fat and research has shown that the fatty acid chains of Coconut oil are shorter than the saturated fats from meats. The shorter chains in coconut oil have been shown to raise good cholesterol as opposed to the longer fatty chains in meats products have been linked to heart disease!
"Coconut oil is made up of about 90% saturated fat, but the scientific community has started to figure out that not all saturated fats are equal," Susan Mitmesser
There are two types of Coconut oil, virgin and refined. The virgin coconut oil comes straight from the pulp of the coconut and has more nutrients than the refined oil which is heated and has chemical added to it to keep the coconut taste!
In my opinion I think that virgin is the way to go if you chose to use coconut oil. Always go for the higher nutrient, natural food choices.
Also… substitute the coconut oil vs adding in to meals! Example use the coconut oil for the olive oil!
To Your Health,
Chris
---
You know… sometimes life really makes things interesting! When you start getting some momentum… boom… Roadblock! The question is: Do your stop or do you find a way around it? I just hit a roadblock and there is no way in hell this thing is going to stop me! I'm working my way around it now!
Don't let roadblocks stop you from getting what you want in you life! Find your way around!
---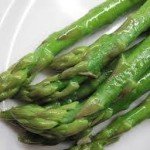 Asparagus is a Super Food that's considered to be one of the worlds healthiest foods! It's a great idea to add this 2 time a week to your weekly diet. It's definitely one my wife and I buy weekly!
Here are some of the great benefits:
1) It contains glutathione (an antioxidant) which has detoxing properties that help break down carcinogens and protect cells from free radicals.
2) It is a natural diuretic and great for helping to reduce water retention after those heavy salty meals.
3) It's loaded with Vitamins and minerals such as calcium, vitamin B6, magnesium, and zinc.
4) It also contains relatively high levels of vitamin C, potassium, beta-carotene, vitamin K, vitamin E, thiamin, riboflavin, rutin, niacin, folic acid, copper, iron, phosphorus, manganese and selenium .
---
I am sitting at a coffee shop in Santa Monica and "I am in Pain"!
See, this weekend I took a course on Metabolic Training (HIIT) not realizing there
was a workout involved in the course. We did a 50 minute HIIT workout which my
body was not physically prepared for.
It's been three days since the course and I am still sore and uncomfortable, I'm
guessing it will be a couple more days of this feeling…You know what…It's not
worth it!
Even though I workout almost every day mostly riding my bike and I have a high level of fitness, I was not conditioned for the type of workout I performed over the weekend. As a consequence I'm paying for it now.
My reason for writing this is so you don't make the same mistake. The purpose of
exercise and fitness is to support and develop health. Since I chose to exercise at an intensity my body wasn't conditioned for, I am now in pain which is affecting my life. I am too sore to ride my bike and every time I move my mind goes to the area that hurts and away from writing this or whatever other task I'm working on.
When exercise is done correctly there is an immediate and long-term benefit. Doing
it correctly means you keep pushing yourself over your limits a little bit at a
time not all in one day. This insures that you continually get stronger, have
energy and continue to stay safe.
Working out until you can't move and get really sore is counterproductive and
significantly increases your chance of injury. I always say when getting in
shape that "it's a marathon, not a sprint". It doesn't mean you can't do a
sprint now and then. You just have to be prepared for it!
Hope you find this helpful… feel free to contact me with any questions.
Chris
---
Motivation is a key component in reaching your health goal but unfortunately it does not last for long, it slowly begins to come down little by little. Don't you wish your enthusiasm would last would last 24/7? I know I would!
Motivation goes through cycles. When you first start working toward your health goal, you are at a high level of determination to reach for your goal. You have a mental vision of your destination, what it looks like, how you will feel, what's your next goal is after you have accomplish this one, it's all within a reaching distance. Thinking and seeing it in your mind has you excited and highly motivated to achieve it and you are excited to achieve it!
Unfortunately, this excitement doesn't last long and within in 2-3 weeks into your health goal you will find yourself making excuses, "I'm too tired, I have to fix dinner, I have to work late…you know the drill, we all do it, I do it at times. These excuses can lead to pushing your health goals to the side.
This lack of motivation is a critical point in successfully reaching your goals. It might seem like two parts of yourself are fighting. The first part is saying 'keep going, you are doing great in eating healthy and working out' and the second party is saying "lets by lazy and take the day off today, the gym will be there tomorrow, I will start eating clean again on Monday". It becomes the battle of new and old habits, you either push through the struggle or continue on your new healthy path to achieve your goal or go back to the old way of being and starting all over again. The choice is yours!
When you consciously make a decision to push through the struggle you are keeping your promise to yourself of continuing on your health goals. This point can be challenging but as long as you overcome this part you will see things get a lot easier. The good news is every time your push yourself to continue this way of living, it becomes easier to stay on track towards your goal.
The point that I am trying to make is, don't get discouraged with your goals, reguardless if it's a fitness goal or personal goal. Always believe in yourself and know you can accomplish your goals as long as your keep your spirits high and continue to push through the struggle.
---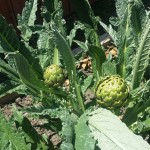 Artichokes are one of the Best vegetables you can eat!
Artichokes are a great healthy detoxing vegetable. They are loaded with antioxidants and one in particular called silymarin which helps rid the liver of harmful toxins and promote healthy liver function. They are also a good source of folate, dietary fiber, and vitamins C and K.
This can be a great choice the following day after a night of drinking.
Here's some Artichokes in my garden! I of course only have one plant left because my dog decided three plants was to many. lol 🙂 Can't wait to eat them!
---
I was researching successful fitness products the other night and I ran across one that really upset me. It was a fitness product that claimed  they can get you a ripped 6 pack abs without changing your diet or spending too much time exercising. The product also claimed that personal trainers hate him because his product get's people these amazing results and will no longer need a trainer.
He is right about one thing… Personal Trainers do dislike him!
 Personal trainers do not like him because of his product, but because of his lies. The truth is, you must follow a proper nutrition and exercise plan if you are looking to achieve the type of results he is promising. Beware of these type of product because they all over the place. They are preying on people's desire for immediate gratification. These claims are false, misleading, and unethical.
There are so many reasons why this is unfortunate. When someone who does not exercise buys a product with promised results and does not see the outcome of flat abs or bigger butt, they get discouraged of working out.  Then they start to think that they can't change, exercise is not for them so they end up gaining more weight and becoming unhealthier. The truth is that they can get results, they just have to do the right eating and exercise program.
I became a personal trainer because I want everyone to be successful with their fitness goals!   There's nothing like helping someone achieve health which brings happiness into ones life. It's awesome to see my clients so excited about hitting their fitness goals.
My point of this is… DO NOT BUY THESE BS PRODUCTS! You are capable of achieving these results with exercise and good healthy eating habits.  You will see a change in your body and energy once you dedicate time for yourself and your health.
Chris
With your best interest
---
Drink Water! Train yourself to drink water as a first resort and skip the sugary chemically filled drinks. It may be hard at first but you have to train your palate to not crave the taste when drinking fluids and learn to crave the healthy feeling water provides your body! This doesn't happen overnight it takes time to adapt. It also doesn't mean you can't have your favorite drink now and then… Moderation is key! I remember how bad the cravings were when I was around 20 and I cut out sodas and sugary drinks. I remember thinking how tasteless the water was. And you know what…. It Passed. Now when I drink a soda I feel sick and bloated.
Water is where the health is at!!!
---