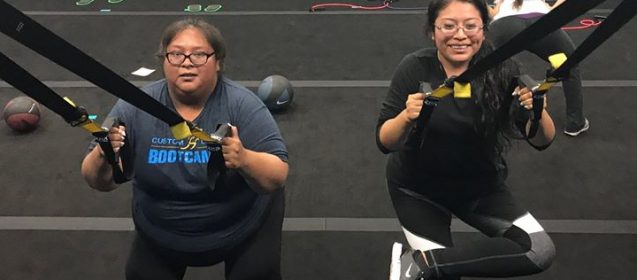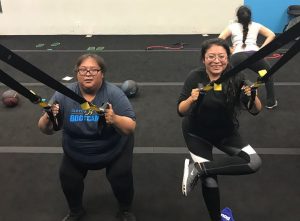 The story I am about to tell you made me a little emotional last night when I saw two members, who are sisters working out together. Dreams do come true!
I am so excited to share how Rosaisela's love for herself and sister lead her to take action to lose weight and inspire her sister to do the same.
Rosaisela was referred to Custom Body Bootcamp by a coworkers who had been working out for a few month and had achieved great results.  She came in for our Free one day trial and without hesitation she signed up for a 14 Day Kick Start that day!  
The first two weeks are challenging when you start out at the bootcamp. The important part is to show up, go at your own pace and do your best. That's exactly what Rosaisela did. She did struggle, but showed up and did her best every time.
When I sat down with Rosaisela for a consultation to go over her goals, she told me about her sister Evangelina. In almost tears, she told me about how she wants to help her sister lose weight because she is worried about her health from being significantly overweight. Rosaisela said she wanted her sister to join but was going to lead by example,and join first in hopes to inspire her sister to come to bootcamp.  
This is the BEST way to help, motivate and inspire others to get moving and take care of their health.  This is exactly what I teach our members to do if they want a loved ones to join.
The reality is that we can't force other to do things because WE think it's best for them.  If  they want to create change in their life,  they have to make the decision to change. You can't force people to do things against their own will.
Lead by example and inspire people to change. This is a leadership principle!
Rosaisela started her journey by changing her eating habits and coming to bootcamp class consistently (4-5 days a week).  These are two biggest changes one should do in order to get results and Rosaisela worked hard on both. .
Rosaisela has  lost 14 pounds, has gotten significantly stronger and feels great! Check out her Before and After picture. She is developed and created a healthy lifestyle.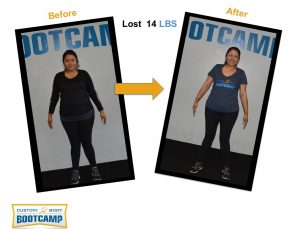 Eight months after Rosaisela decided to join the bootcamp she enthusiastically came to let me know her sister Evangelina  decided to try the bootcamp.  How exciting!!! Leading by example works.
Evangelina  signed up for the 14 Kick Start. In the two weeks of the trial she showed up 3 days a week and did her best.
We sat down for her consultation and Evangelina said she was going to sign-up but couldn't at that time but will come back 🙁    I have heard this story plenty of time, they usually don't come back, needless to say I was pretty bummed for Rosaisela.
Fast forward  a month and ½ later,  Evangelina  showed up and signs up for a membership!!! How  Awesome is that!!!   🙂
Even better…. she lost 10 pounds over that month and a half while she was gone. She started eating better! Double Awesome!!
She shows up the class at least 3 days a week and I can see changes and can tell she's losing weight.
When I saw Rosaisela and Evangelina working out together, it got me emotional.  It made me feel so happy inside to know Rosaisela inspired Evangelina and that Evangelina is on the right path to losing weight, getting healthy and getting strong.  Sister Love!
With the support of Rosaisela and the Bootcamp, Evangelina is going to do great!
Huge shout out to Rosaisela for going through great lengths to help her sister, Priceless.
The best way to help another person is to lead by example and inspire them.
Custom Body Bootcamp inspiring to Change Lives